Math Wiz is a math puzzle card game that provides a fun way to practice basic mental arithmetic in a fun approach. Players attempt to solve a Math Wiz puzzle with the cards in their hand by creating a card spread that equals the target number (the sum) shown on top of the draw pile. Cards can be used either as a number or arithmetic sign. The more cards a player uses the more points will be earned, using all cards will earn a player double points.
Puzzle a day keeps the dullness away!
Only $14.99
~MATH WIZ TESTIMONIALS~
"The game is super fun! Couldn't wait until Christmas to take it out and have played it several times."
Lisa - Teacher
"I'm so happy to see the Math Wiz after school program such a success. The kids look forward to it! In fact, one of my kids and her mom went and bought a Math Wiz game right after school today! Thanks for giving us your time." - Beth/Teacher
"The game is on! I have given several of the decks away that I purchased ....to people in our company, but especially to my husband! He is so intrigued! We are surveyors by trade...math is our foundation. Great product! Hours of entertainment and makes us use our beans!" - Malanie/Parent

"What I find most interesting about Math Wiz is the different variations of games you can play. It helps make math fun rather than something you dread." - Phil/Teacher
"Playing Math Wiz will allow us to practice our math skills in a way that makes learning fun. I loved all the different ways you could play Math Wiz." - Hailey/Teacher
"I like the design of the Math Wiz cards… How a person can line them up neatly and see the numbers and signs." - Laura/Teacher
"I loved that Math Wiz can be used multiple ways with all age/skill levels. An increased math skill keeps your brain working quickly." - Yenta/Teacher
Click here to Download the Math Wiz Game Variation Sheet Below - PDF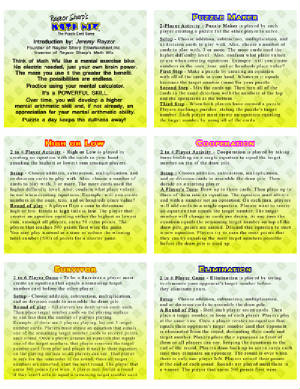 Click here to print record sheet below.
Mental Arithmetic Record Sheet